Replace Your Toilet Before It Floods Your Home
6/25/2020 (Permalink)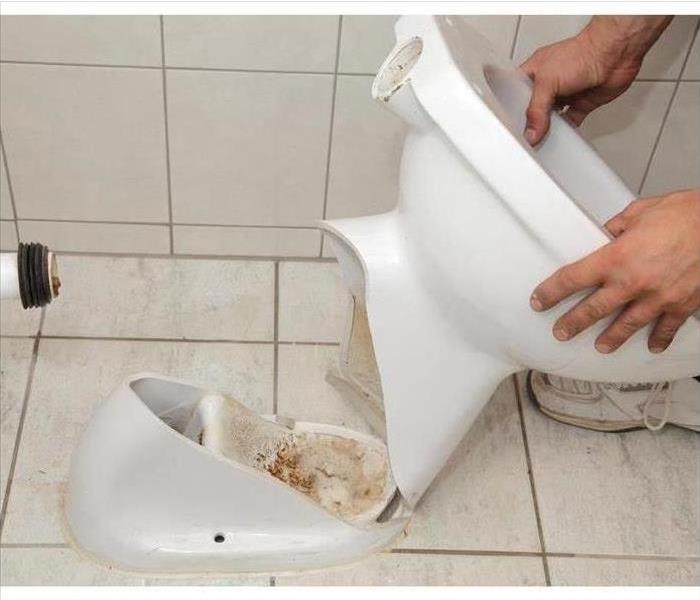 One of the most used rooms in your Ashland, MA, home is the bathroom. The fixtures within it get a lot of use, especially the toilet. Over time those fixtures can begin to stop working properly. When faced with a leaking toilet, it isn't always easy to tell if a small fix will do or if it needs to be replaced.
Signs Its Time to Replace
Instead of waiting for a malfunctioning toilet to cause a massive water problem that requires a water and mold remediation expert, there are a few signs that may indicate a replacement is the best option.
Constant Repairs
If it seems like your old toilet needs repairs like clockwork, such as valves, a flapper, or handle, those little parts begin to add up. As well as avoiding the headache of the next repair, a new toilet can provide peace of mind and open your budget for other necessities.
Recurring Problem
Consistent clogs are a good indicator that your toilet is ready to be upgraded. Constant unclogging can create additional wear and wastes water whereas newer models are designed for stronger flushing.
Porcelain Cracks
A toilet repair is not an option if cracks begin to form. Although they can start as small slivers, they can quickly spread. This may lead to the toilet breaking and flooding in your home.
High Water Bills
If your home is equipped with older toilets, you may see an increase in your utility bills. Newer models are designed to use less water.
Replacing a Toilet
When faced with a constantly leaking toilet, replacement is likely the best solution. For those with a little home repair savvy, a replacement can be done on your own with a few simple tools. Before diving into the project, it is important to remove water from the toilet and turn off the main water supply during the replacement.
Although not every leaking toilet may need to be replaced, consider the signs above to keep a big water problem from happening.
If your home has been damaged the experts at SERVPRO of Framingham can make it "Like it never even happened." Call us today, 508-370-4400!