When A Washing Machine Wreaks Havoc
3/23/2018 (Permalink)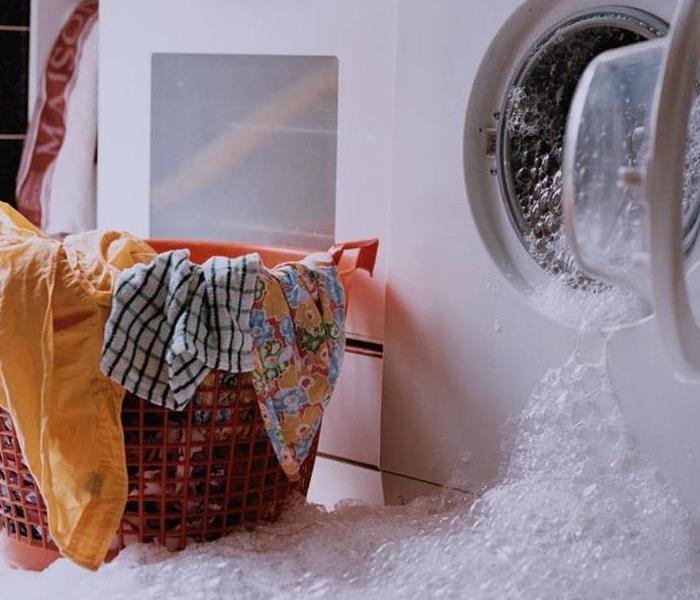 One of the most well-known causes of water damage in your home, washing machines can cause costly damage. After the deductible is paid, the average claim nationally for water damage from washing machine malfunction is more than five thousand dollars.


Supply Hose Leaks
Over fifty percent of claims from washing machine water damage can be traced to the failure of your supply hose. It can be caused by an aging hose, a poor connection to the wall or machine, or the hose being pinched while it is installed, causing a hairline break. Intake hoses are high-flow lines and can put out more than six hundred gallons of water in one hour. If the supply hose on your machine is over five years old or is not steel braided, get it replaced as soon as you can.

Drainage Issues And Flooding
If there is a clog in your drainage pipe, the sewer backs up, or your drain pipe is not properly lined up, the drainage system of your washing machine causes some water damage at least. Most importantly, avoid a clog in the sewer line. When this backs up, you can be faced withwater damagethat is filled with contaminates and poses serious risks to health. You most definitely need the help of the professionals at SERVPRO if this happens to you since they have the proper equipment and training to clean up the mess safely.

Internal Leaks
Your washing machine doesn't have to be incorrectly installed, old, or built poorly to create an internal leak. Overloading your machine on a regular basis can cause valves, gaskets, and bushings to crack or loosen. Smaller loads, even if it takes longer to do the laundry, keep your machine from shaking itself apart.

Identifying Your Leak
If you have a leak that is constant, you likely have an issue with the supply hose. It is probably an internal leak if it happens during the wash cycle but before the spin cycle. With water on the floor during the spin cycle or right after the machine turns off, you probably have a drainage issue.